5 THINGS THAT MAKE KŌKUA SUN CARE SUNSCREEN DIFFERENT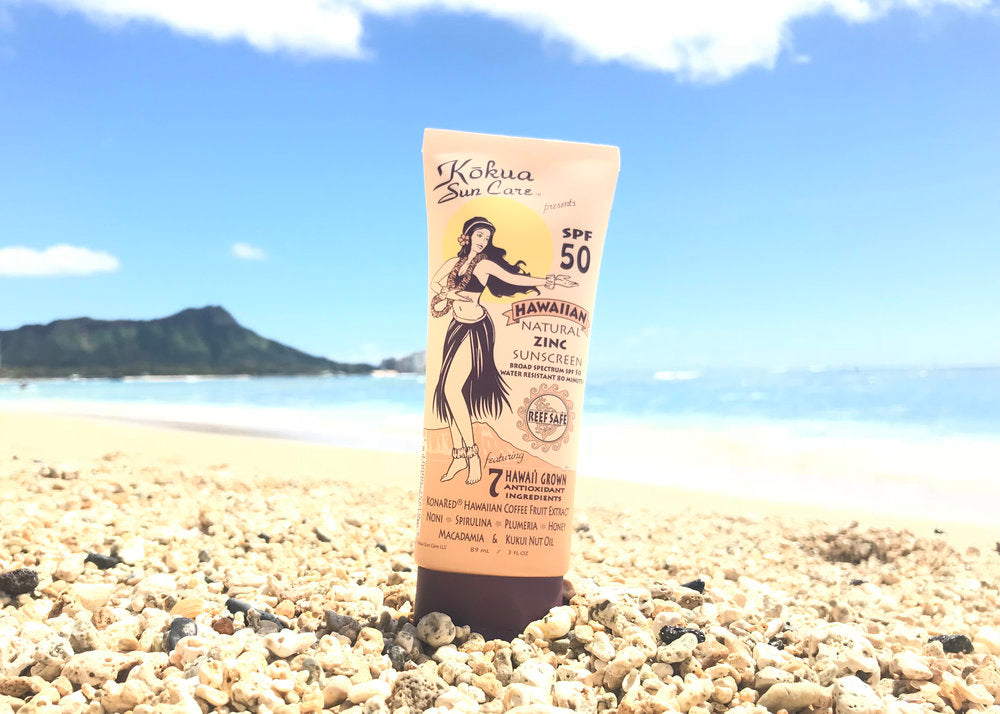 5 THINGS THAT MAKE KŌKUA SUN CARE SUNSCREEN DIFFERENT
We have choices for sunscreens, but what makes Kōkua Sun Care stand out from the rest?  
25% Zinc Oxide – A Rare Find
Natural and Non-Nano yet Smooth & Clear Application
Rich Antioxidant Ingredients, including 7 Hawaiian Ones!
Reef-Friendly and Safe for Marine Life
Not DIY or Hand-Made – FDA Compliant in Manufacturing, Testing, and Labeling
1) 25% Zinc Oxide – A Rare Find
Using zinc oxide is one thing, but using 25% non-nano zinc oxide is another.  Kōkua Sun Care uses 25% zinc oxide as the only active ingredient, the highest amount of zinc oxide that you possibly can have in a zinc sunscreen, and this means safe and superior protection.   It is recommended to have at least 20% zinc and many natural brands have less or a lesser combination of zinc oxide and titanium dioxide.  The significance of using zinc oxide is that it is the only FDA-approved active sunscreen ingredient that provides an adequate amount of protection from UVA rays, which have a longer wave length than UVB rays, and penetrate the skin deeper causing skin aging, wrinkles, and melanoma.   
SPF only measures UVB rays, which travel at a shorter wavelength and are responsible for sunburn for the most part.  This is the reason that we also have "Broad Spectrum" on our label.  This means that the formula has been tested in an independent laboratory according to FDA protocols to measure "critical wavelength" confirming that our formula passes the test for adequate protection against both UVA and UVB protection.  To pass the test, a sunscreen must have a critical wavelength value of 370.00 nm at a minimum.  Our sunscreen has a critical wavelength value of 375.00 nm!  
2)   Natural and Non-Nano with a Smooth & Clear Application
Non-nano zinc oxide is a thick and pasty white material and extremely difficult to formulate into a product with a smooth and clear application.  One formulator told us that it is like working with clay.  And on top of that, we were working with 25% of it and special natural ingredients to make it water resistant for at least 80 minutes (and more).  It was a tall order to reach the maximum amount of zinc plus maximum water resistance that you can legally claim and still have easy application.  We spent 5 years working with various professional chemists and sunscreen formulators and turned down dozens of formulas before we arrived at this one formula, that glides on clear and spreads like ALOHA.   
We use the latest and absolute best natural and non-toxic emulsifiers to be sure that the zinc oxide is evenly and optimally dispersed throughout the formula. Appropriate professional formulation and testing that ensures that the formula does not separate, clump, blotch, or flake is key to achieve consistent high performance.  Smooth application is a breeze with cheap chemical sunscreens and toxic emulsifiers, preservatives, and fragrances that absorb into your skin (and blood).  So, to achieve a consistently smooth and clear application with 25% zinc and 80 minutes water resistance with non-toxic ingredients is a tremendous feat – and very uncommon for a natural zinc sunscreen!
3) Rich Antioxidant Ingredients, including 7 Hawaiian Ones!
Even though zinc oxide is the best sunscreen protection you can get, still some oxidative stress occurs when the sun hits your skin that can cause DNA damage.  The scientific literature shows that it is important to pretreat the skin with botanical antioxidants before sun exposure to prevent skin damage.  See Godic, Poljsak, Adamic, Dahmane; Oxidative Medicine and Cellular Longevity, 2014. 
For this reason, we have loaded Kōkua Sun Care with 22 botanical antioxidants, 7 of which are sourced from Hawaii.  The Hawaiian ones are significant because they are born out of the richest volcanic soil on the planet and have maximum nutrient density adding to their antioxidant power.  Moreover, Hawaiian plants have braved the strong oxidizing rays of the tropical Hawaiian sun and have developed powerful antioxidants to protect themselves, which Kōkua Sun Care has employed to protect us, too.
4) Reef-Friendly and Safe for Marine Life
We use reef-friendly non-nano zinc oxide because nanoparticles are damaging to coral.  However, the formula is reef safe not only because it contains zinc oxide instead of chemical sunscreens like oyxbenzone and octinoxate, but also because it does not contain a host of other marine toxic ingredients, such as the preservatives called parabens and phenoxyethanol, and many other toxins found in sunscreens, even "natural" ones.  See this growing list based on the current scientific evidence of all the marine toxic ingredients to avoid in sunscreen and personal care products. 
5) Not DIY or Hand-Made  -- FDA compliant 
Sunscreens are considered to be "OTC" or "over-the-counter" drugs and must adhere to specific federal laws and FDA regulations and are subject to Current Good Manufacturing Practices (or "CGMPS").  See FDA facts about CGMPs here.   
Kōkua Sun Care is manufactured in an FDA-certified and monitored facility as required by federal law and compliant with all FDA testing and labeling.  We also are officially registered with the FDA.  With appropriate professional formulation and manufacturing we have passed testing for a (2) two-year shelf life and additionally have passed the following FDA-required tests:
10 subjects for SPF 50
80 min water resistance
Broad Spectrum testing (confirms protection from both UVA and UVB rays)
Preservative efficacy testing (shows the preservative works and the formula is not hazardous to consumers due to microbial growth for the duration of shelf life)
Accelerated stability testing (confirms formula will not separate or change consistency during the 2-year shelf life, and confirms the active ingredient zinc oxide stays present at the specified percentage during the 2-year shelf life); and long-term stability testing;
Assays for zinc (confirms that 25% zinc oxide is present in manufactured production batch at correct levels before filling in tube and then again in tube for quality assurance that the sunscreen is what the label says it is).
---