Kōkua Sun Care Event and Corporate Gifting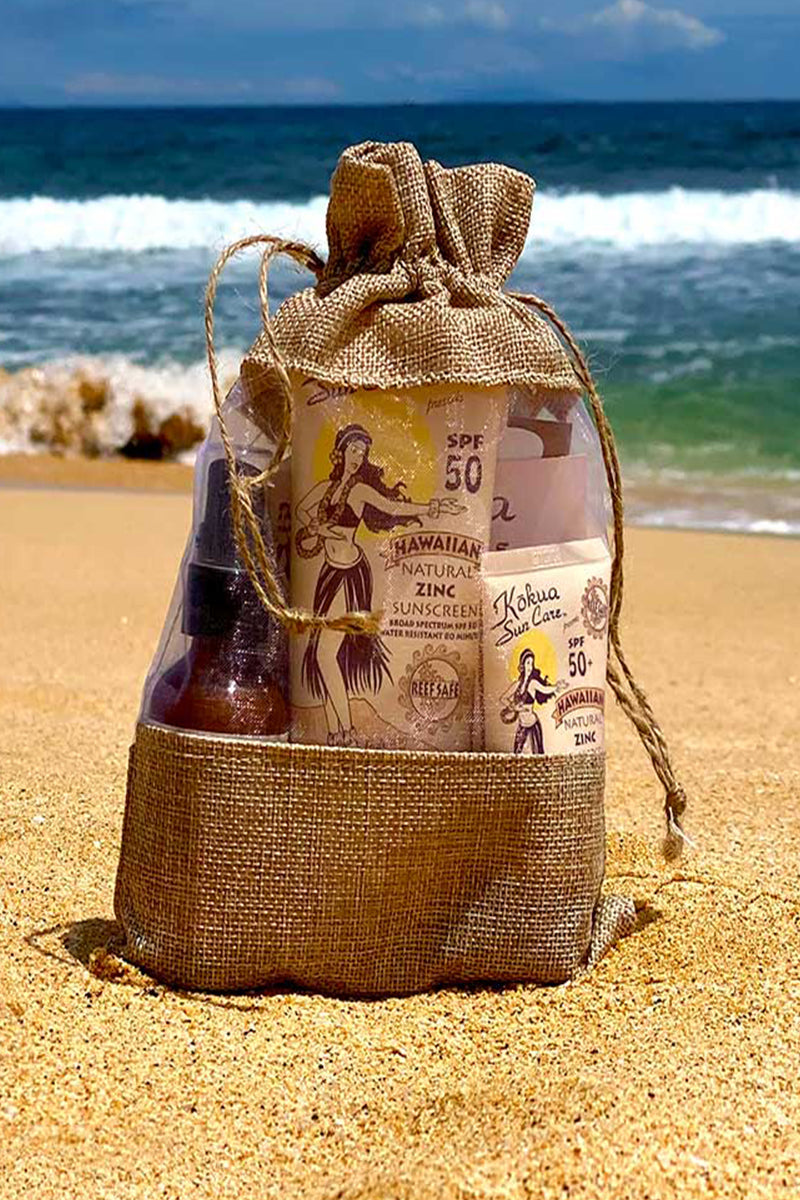 Kōkua Sun Care for your wedding, corporate, sporting, or other special event is a perfect gift or addition to any welcome package.  Your guests will love a unique local Hawaiian gift, one that supports local Hawai'i farms and businesses. Our elegant vintage Hawaii logo with graceful hula girl and iconic Diamond Head and ocean waves in the background embodies the relaxed feeling of the islands and all their natural charms from the mountains to the oceans.  Reef safe sun care is also a useful and eco-friendly gift, ensuring that your guests avoid terrible sunburns without damaging Hawaii's precious coral reefs.  There's nothing like a blistering sunburn to take the joy out of a special event.  The scents in our products are gender neutral, natural, and light evoking a blissful Hawaii day – pleasing to everyone.  You can feel great that your gift is a quadruple win to the local economy, environment, the guest and the giver!
We offer individual gifts or a customized gift pack with any one or combination of the following items described below:
Kōkua Sun Care Hawaiian Natural Zinc Sunscreen SPF 50
This is the revolution in REEF SAFE water resistant zinc sunscreen. No toxic chemicals and no eye sting! It rubs in clear and smooth with high performance broad spectrum protection using the highest percentage (25%) of non-nano zinc oxide available as the only active ingredient, while deeply nourishing the skin with rich Hawaiian antioxidant ingredients.  Natural extracts give it a light coconut vanilla scent.  Professionally formulated to go on like a moisturizing lotion and light enough for everyday use, this sunscreen with its superior 80 minutes of water resistance also stays on through sweat and swells and protects you from the harshest UV rays.  Available in 3oz and 1oz in sugarcane bio resin tubes, which are carbon negative – taking more carbon out of the environment than the manufacturing process emits.
Kōkua Sun Care Hawaiian Natural Zinc Sunscreen SPF 30 tinted
This smooth and moisturizing tinted sunscreen is your go-to daily sun protection that you will reach for again and again.  Comprised of naturally-derived vegan ingredients, it has a faint dreamy scent of coffee and cocoa derived from natural extracts.  With Hawaiian ingredients like kukui and macadamia nut oil, spirulina, noni fruit, and plumeria and other rich antioxidants, it is superfood for the skin.  Its creamy texture feels luxurious and rubs in easily without any silicones.  This SPF 30 tinted sunscreen is not just for show but also for go!  It contains a high percentage of non-nano zinc oxide at 18% and boasts 80 minutes of water resistance to defend your skin from the elements.  Non-toxic and reef safe, it's just as good for the beach as it is for everyday use. Available in 2oz glass pump bottles (limited edition) or 3oz sugarcane bio resin tubes.
Kokua Sun Care Hawaiian Hydrating Aftersun Serum with Hyaluronic Acid, Vitamin C, Aloe Vera, and Hawaiian Sandalwood Oil.  Feel your skin soak in the moisture and nutrients from powerful superfoods for the skin, including potent Hawaii-grown botanicals and other rich antioxidants.  The hyaluronic acid plumps and intensely hydrates; the Vitamin C in its stable, non-irritating form, boosts and stimulates collagen; the organic aloe vera cools, soothes, reduces inflammation and binds moisture into the skin; and the organic Hawaiian Sandalwood essential oil nourishes and calms.  Can be used daily for dry skin or as an aftersun for face and body.  Available in 2 oz glass pump bottles.
Kōkua Sun Care Natural Konjac Sponge.  Excellent for all skin types, this natural plant-based sponge removes sunscreen, dirt, and makeup. Made from only 100% pure konjac plant root and natural bamboo charcoal, this sponge gently exfoliates, deep cleans, and leaves your skin looking fresh and glowing.
A custom gift of Kōkua Sun Care sends the message that you are thoughtful and care about quality and sustainability. Whether your event or occasion is in Hawai'i or somewhere else in the world, your guests will feel the aloha spirit!
---