Top 4 Kid-Friendly Beaches on Oahu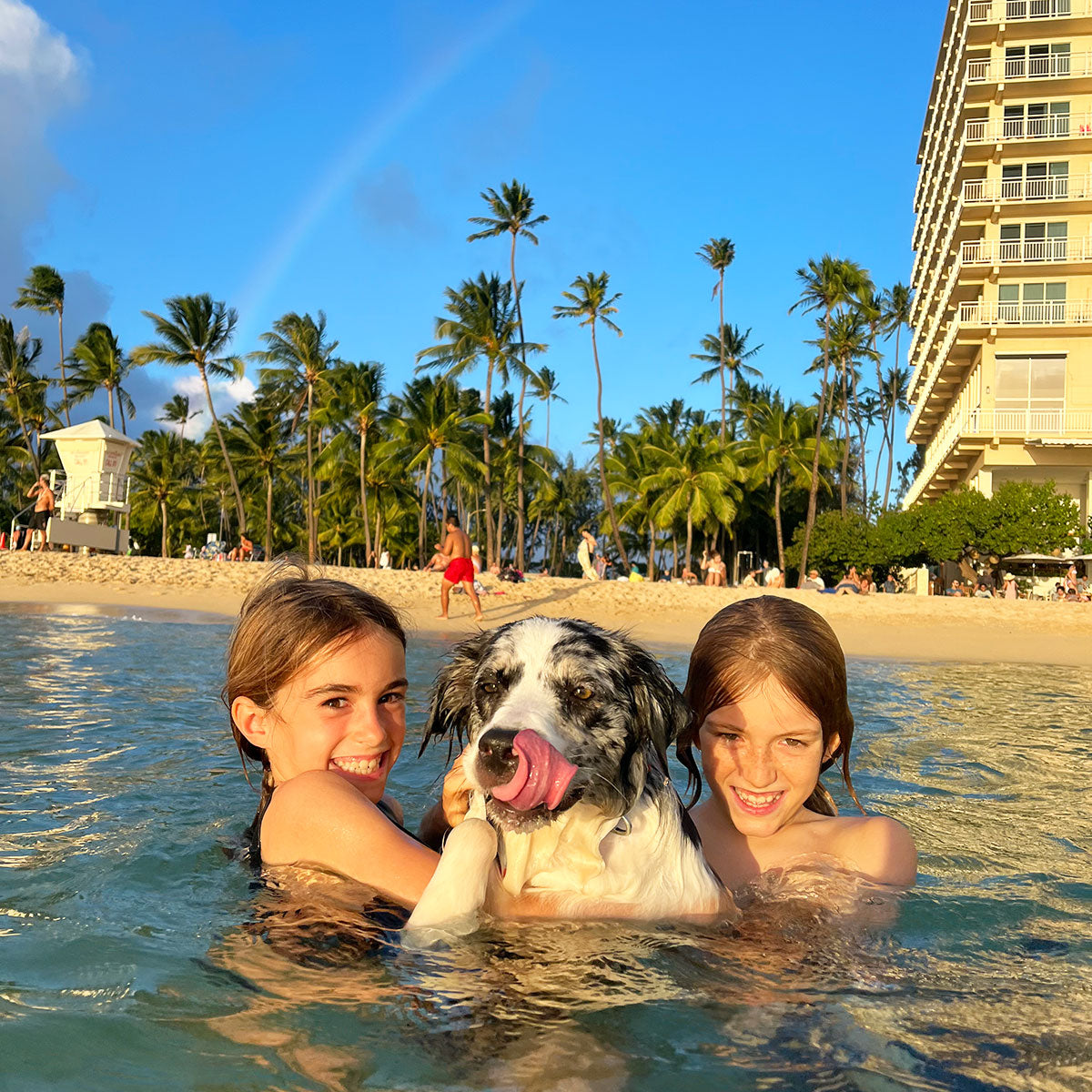 These are four of our favorite beaches for "keiki" or kids on Oahu that we have enjoyed over the years. The Kōkua ohana has two children, and we have visited these beaches numerous times.  We hope you check them out and enjoy!
KAIMANA BEACH. This is a small centrally located beach in Kapiolani Park near Waikiki. We love that it has a sandy bottom and calm, manageable waves. Lifeguards on duty add extra security for swimming. The water gradually gets deeper and looks beautiful and clear. Head there early in the morning to get easy parking and beat the crowd. There is plenty of shade in the morning, too, on the eastern or Diamond Head side of the beach. The outdoor showers right at the entrance are convenient, and the bathroom facilities are nearby at the natatorium.  If you are there later in the afternoon, stay for the beautiful sunsets. 
Cons: It's sometimes crowded, especially on weekends.  You might have to park a distance away if it's a busy time.  We always brought our wagon just in case to carry gear.
BABY MAKAPU'U. Baby Makapu'u is where locals take their keiki to play safely in several protected, clear, and shallow tidepools with sandy bottoms that little ones love, just like natural kiddie pools. Older kids enjoy exploring the tidepools and finding fish, crabs and other creatures. The parking area is close to the beach making it easy to carry all your kid gear. There's no shade for most of the day, so bring plenty of Kōkua Sun Care SPF 50.  It does get shady in the late afternoon as the sun goes down behind the mountains.
Don't be confused with Makapu'u Beach known for body surfing and boogie boarding.  From Honolulu on Kalaniana'ole Hwy, take your first right toward the ocean after the Sea Life Park entrance on the mountain (or "mauka") side.  You'll also see a windsock where you turn right. 
Cons: No bathroom or shower facilities, but there is one water spigot that can be used for washing sand off your feet. This beach can get crowded on the weekends.
KAILUA BEACH. This long stretch of smooth white sand is probably the most picturesque. The ocean is gradients of vibrant turquoise and blue.  The scenery in all directions is stunning.  The beach is long enough to find a perfect spot in the shade or sun without too much of a crowd.  The kids will love playing in the sand, making sandcastles, and running up and down the beach and in and out of the ocean.  The ocean floor is soft and sandy.  The waves are usually manageable and fun to jump into or body surf.  It's also fun to watch the kayakers and kite and wind surfers. The shower and bathroom facilities make life easy with kids.  Parking is a breeze on weekdays and mornings.  There are picnic tables scattered around the ironwood trees between the parking lot and the beach for those who want to sit and eat. 
Cons: Parking can be difficult, especially on the weekend. Arrive early to beat the crowd. The wind and waves can pick up on occasion, in which case it's not ideal for kids.
KO OLINA LAGOONS. Ko Olina is a privately-owned 600+ acre resort area lined with four sparkling sandy lagoons connected by a lovely ocean walk that extends a mile and a half. Along the way and between the lagoons there are grassy areas and palm trees. All beaches are open to the public and you may use the public parking area near Lagoon 4 during daylight hours. The pros are that there is calm protected shallow water, bathroom and shower facilities, lots of eating options close by, and beautiful sunsets.
Cons: Shade may be scarce unless you bring your own or find a coveted spot under a tree and there are no lifeguards on duty. It's also far out on the west side of Oahu, so unless you are staying at or near Ko Olina, it's a trek. Parking could be difficult in the public parking near Lagoon 4 on the weekends.
Remember to apply reef safe zinc sunscreen on your keiki.  Kōkua Sun Care SPF 50 is ideal for children and the beach and will protect your children without harming the coral reef and marine life!
---