Support Local
Why Hawaiian Sunscreen Ingredients?
Our Hawaii-grown ingredients come from some of the richest volcanic soil on the planet and have maximum nutrient density adding to their antioxidant power. These plants have braved the strong oxidizing rays of the tropical Hawaiian sun and have developed powerful antioxidants to protect themselves, which we can use to protect our skin, too.  Our Hawaiian ingredients are exceptionally rich in antioxidants and help protect against UV damage.  With our Hawaii-grown antioxidant ingredients, Kokua Sun Care allows you to experience Hawaiian superfood for the skin & support local Hawaii agriculture and community. 
Hawaii Grown Antioxidant Rich Ingredients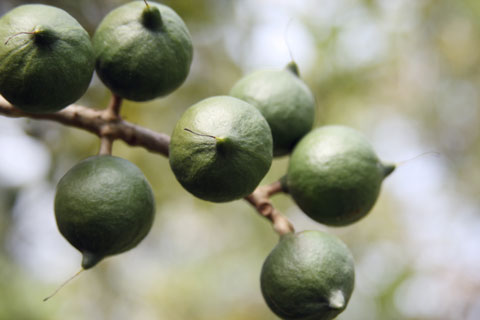 Macadmamia Nut Oil
Kokua Sun Care uses macadamia nut oil for its hydrating, protective and anti-aging properties. Originally from Australia, the first macadamia nut tree arrived in Hawaii in 1881 and was planted on the north shore of the Big Island near Waipi'o Valley. Because Hawaii's climate and rich soil are perfect for growing macadamia nut trees, they have thrived in the islands ever since. Macadamia nut oil is a special ingredient because it naturally consists of a high concentration of the fatty acid, palmitoleic acid, which rejuvenates the skin. This fatty acid naturally occurs in children's skin making it smooth and taut, and we slowly lose it as we age. Palmitoleic acid also plays a role in protecting skin cell membranes and helps prevent water loss especially for skin exposed to lots of sunshine.
Kukui Nut Oil
High in antioxidants and essential fatty acids, kukui nut oil prevents free radical damage to the skin and has exceptional hydrating and anti-inflammatory properties. Ancient Hawaiians used it to protect their skin from the sun, wind, and salt water, and they also used it to treat burns, wounds, and other skin irritations. It is high in both Omega-6 (linoleic acid) and Omega-3 (linolenic acid), which has been shown to reduce the skin's sensitivity to the sun's UV rays and protect the skin from sun damage. The skin absorbs the oil quickly penetrating deeply into the stratum corneum, slowing water loss, and therefore acting as an excellent moisturizer. Because of the immense healing and rejuvenating benefits of kukui nut oil and its many traditional uses, it continues to be one of Hawaii's rich natural and cultural treasures. It's no surprise that the kukui tree is the official tree of the State of Hawai'i.
Noni Fruit Juice
"Noni" as it is called in Hawaii and the Pacific islands is a small evergreen tree that thrives in the nutrient rich volcanic soil of Hawaii. Our Noni comes from the lower Puna regions of the Big Island where it is harvested and processed using ancient traditional Hawaiian methods to preserve the potency of the juice. Noni continues to be one of the most important traditional Polynesian medicinal plants, and topically it is used to care for, protect, and promote healing of the skin. Noni has a significant amount of potassium, Vitamin C, Vitamin A, and fatty acids, and it has antioxidant and anti-inflammatory properties, which make it a treasured ingredient in Kokua Sun Care products.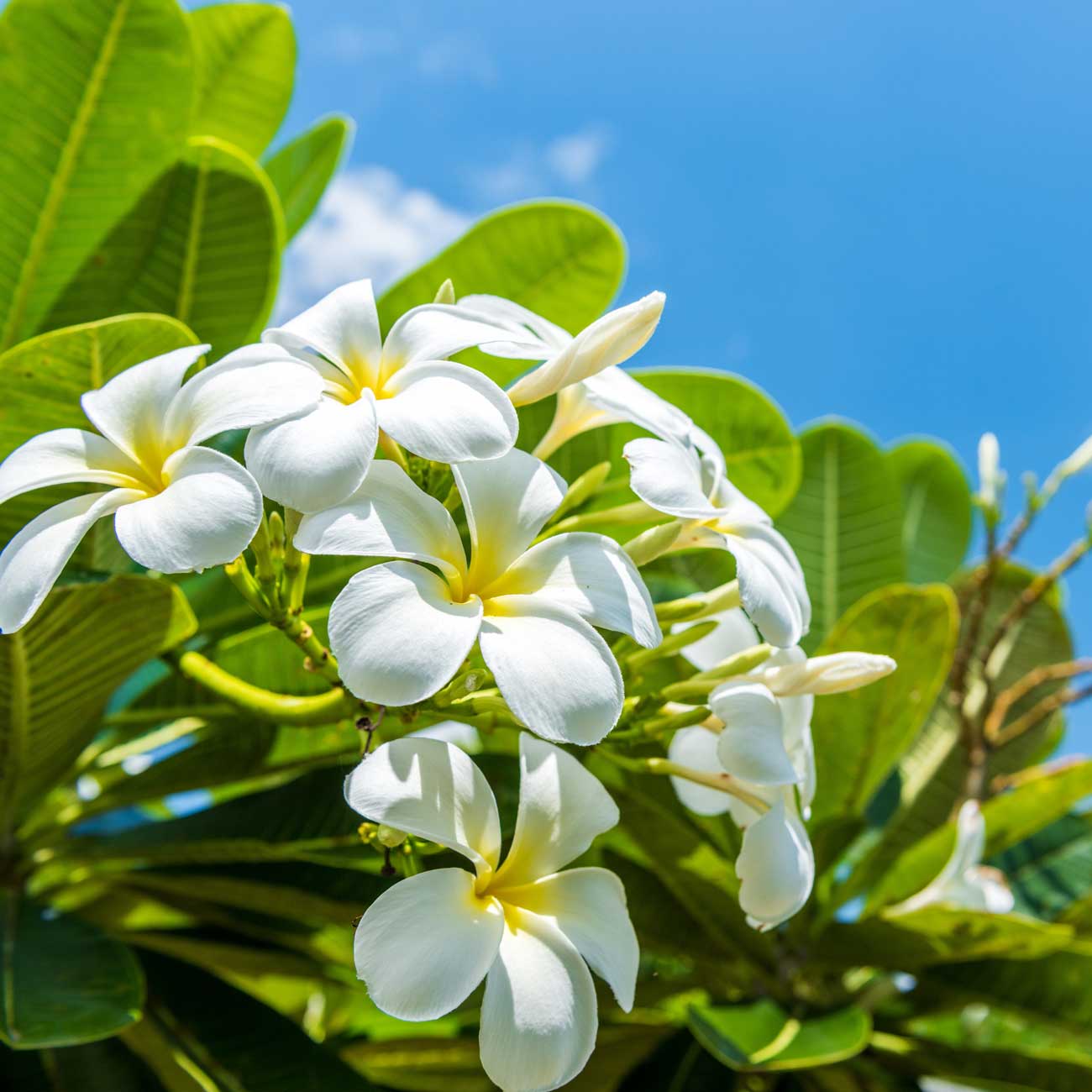 Plumeria Extract
Plumeria trees flourish in Hawaii and in warm tropical climates all over the world and have been a symbol of love and immortality in many cultures. The flowers of these trees are not just beautiful and alluringly fragrant, but they also have provided important medicinal benefits for people throughout history. Kokua Sun Care uses the extract of fresh Hawaii-grown plumeria flowers produced by gently macerating the flowers and naturally preserving the extract in sunflower oil. This gentle, traditional extraction method produces a natural extract with all of its plant constituents in tact. Plumeria flower extract has powerful antioxidant and anti-inflammatory properties due to its high concentration of naturally occurring linalool. The natural lignins that provide the cells of the flower with flexible structural support also help protect human skin from the elements and keep it supple and toned. Easily absorbed into the skin, Kokua Sun Care's plumeria flower extract also acts to soothe and moisturize the skin.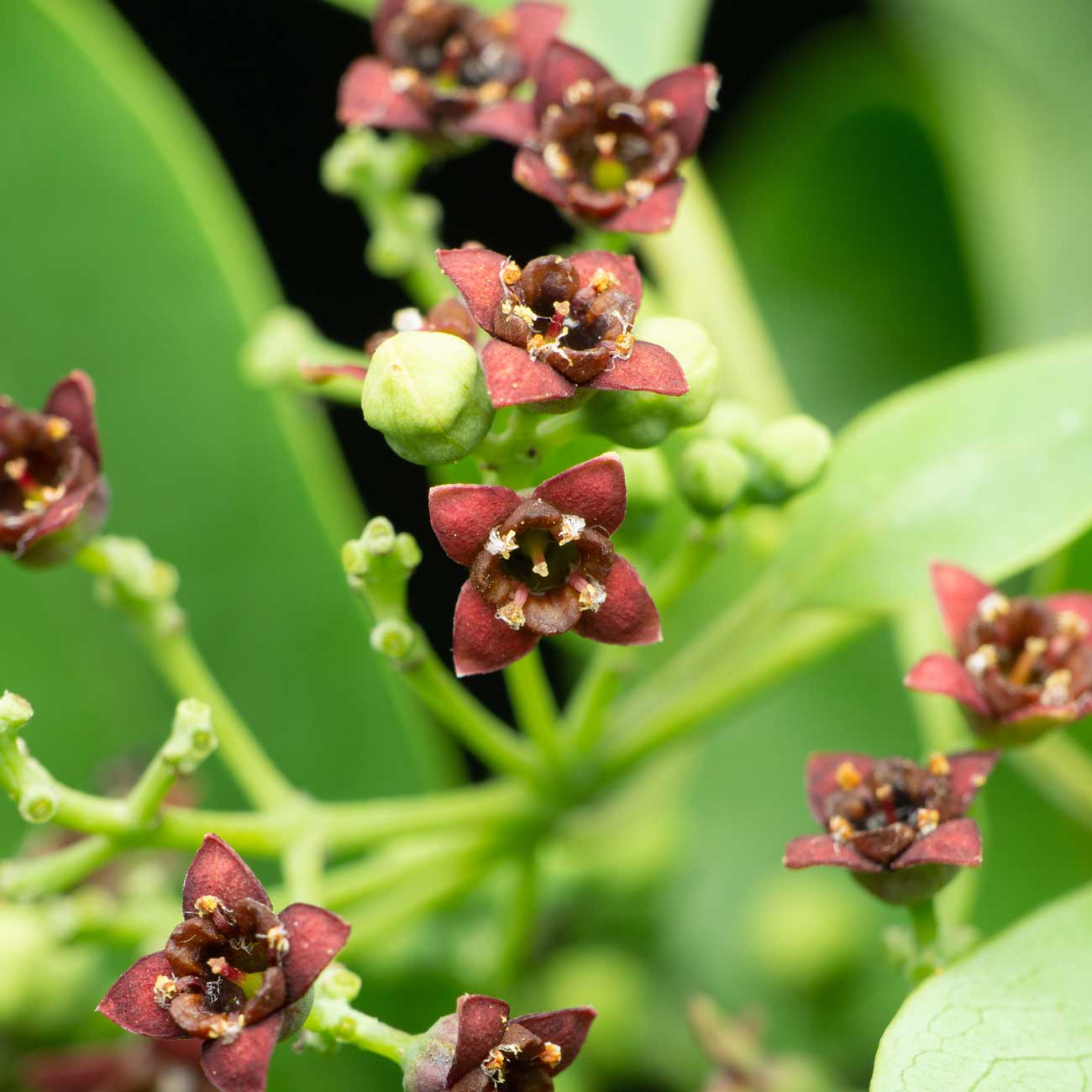 Hawaiian Sandalwood
The nourishing, rich, calming, and mood-enhancing scent from a genus of sandalwood tree endemic only to the Big Island of Hawaii; contains alpha and beta santalols and higher levels of bisabolol than any other type of sandalwood, naturally occurring constituents of sandalwood known for their cancer preventive properties and strong anti-irritant, anti-inflammatory and anti-microbial properties, respectively; sourced from a local, family-owned and operated business that harvests the sandalwood in a sustainable manner through reforestation (replanting and promoting native species) only cutting down dead or dying trees. Traditionally sandalwood oil was used by native Hawaiians for treating skin ailments due to its soothing and anti-inflammatory properties. Our Hawaiian Sandalwood Oil is certified organic.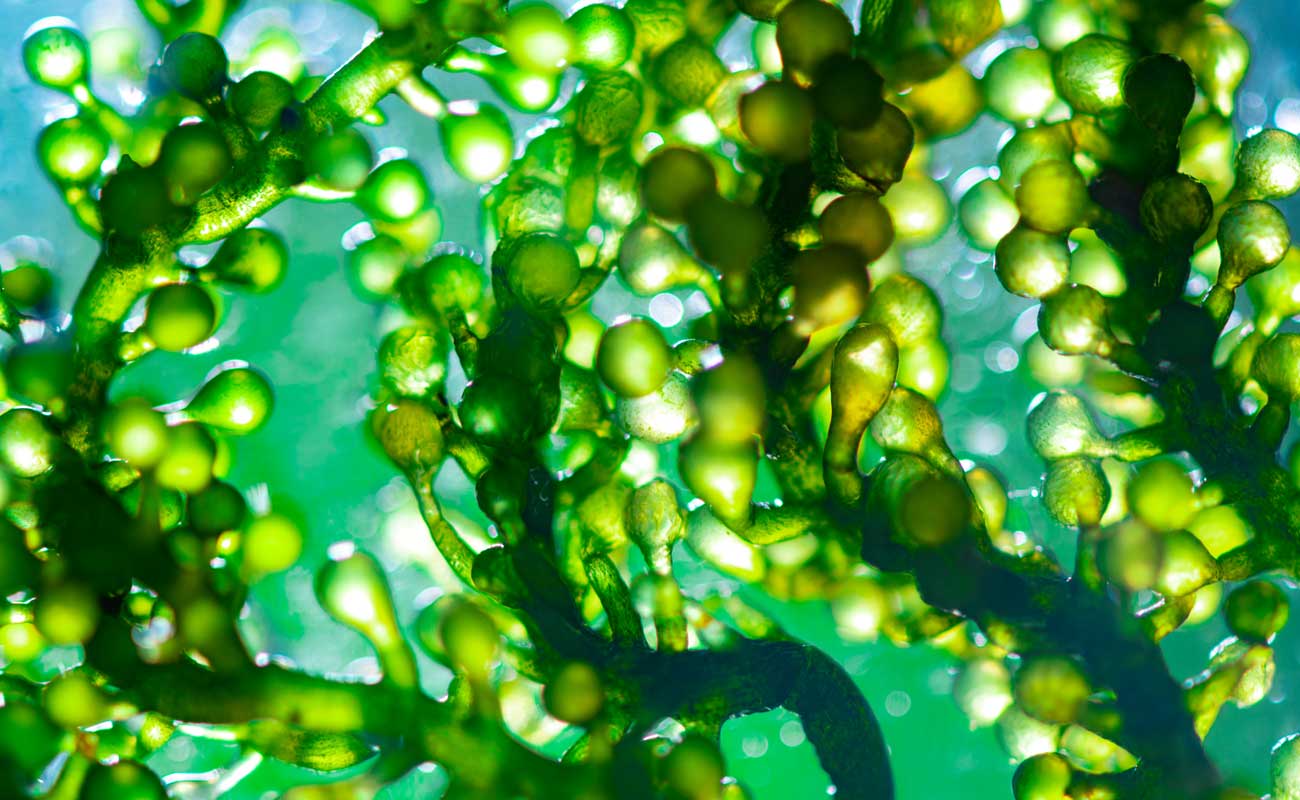 Spirulina
Spirulina is a green superfood powerhouse not just for the inside of your body but for your skin, too! This blue-green algae rich in vitamins and minerals, including B-complex vitamins, beta-carotene, vitamin E, manganese, magnesium, phosphorous, zinc, copper, iron, selenium, and gamma linoleic acid (an essential fatty acid) is one of the most nutritionally rich superfoods in existence. As a result, it has powerful anti-inflammatory and anti-aging benefits. The abundant chlorophyll content helps the skin retain moisture and stay hydrated in the hot sun. Kokua Sun Care uses spirulina cultivated on the Kona coast of Hawaii, in conditions similar to how the algae first grew on the planet, 3,500 million years ago. The Kona coast has a perfect growing climate allowing the spirulina to continuously grow all 12 months of the year rendering a superior strain of the algae with the highest concentration of key nutrients and carotenoids.
Reef Safe SPF 50 / 80 Minute Water Resistance Zinc Sunscreen Ingredient List
Active Ingredient:
Non-Nano Zinc Oxide (25%)

Inactive Ingredients:
Water, Aloe Barbadensis Leaf Juice, Caprylyl Caprylate/Caprate(Coconut Oil Derived), Hawaiian Macadamia Ternifolia Seed Oil*, Hawaiian Aleurites Moluccana (Kukui) Seed Oil*, Polyglyceryl-2 Oleate (Olive Oil Derived), Polyhydroxystearic Acid (Vegetable Derived), Glycerin, Cocos Nucifera (Coconut) Oil, Cetyl Dimethicone, Magnesium Sulfate, Hydrogenated Methyl Abietate, Galactoarabinan, Propanediol, Polyglyceryl-2 Stearate, Hawaiian Morinda Citrifolia (Noni) Fruit Juice*, Arthrospira Platensis (Hawaiian Spirulina)*, Oryza Sativa (Rice) Bran Extract, Rosmarinus Officinalis (Rosemary) Leaf Extract, Heliantus Annuus (Sunflower) Seed Extract, Caprylic/Capric Triglyceride, Prunus Armeniaca (Apricot) Fruit Extract, Vanilla Planifolia Fruit Extract, Cucumis Melo Cantalupensis (Cantaloupe) Fruit Extract, Vaccinium Macrocarpon (Cranberry) Fruit Extract, Musa Sapientum (Banana) Fruit Extract, Santalum Album (Sandalwood) Extract, Coffea Arabica (Coffee) Leaf/Seed Extract, Pyrus Malus (Apple) Fruit Extract, Cocos Nucifera (Coconut) Fruit Extract, Heliantus Annuus (Sunflower) Seed Oil, Tocopherol, Hawaiian Plumeria Alba Flower Extract*, Kaolin, Hydrogenated Vegetable Oil, 1,2-Hexanediol Caprylhydroxamic Acid *Hawaii Grown Ingredients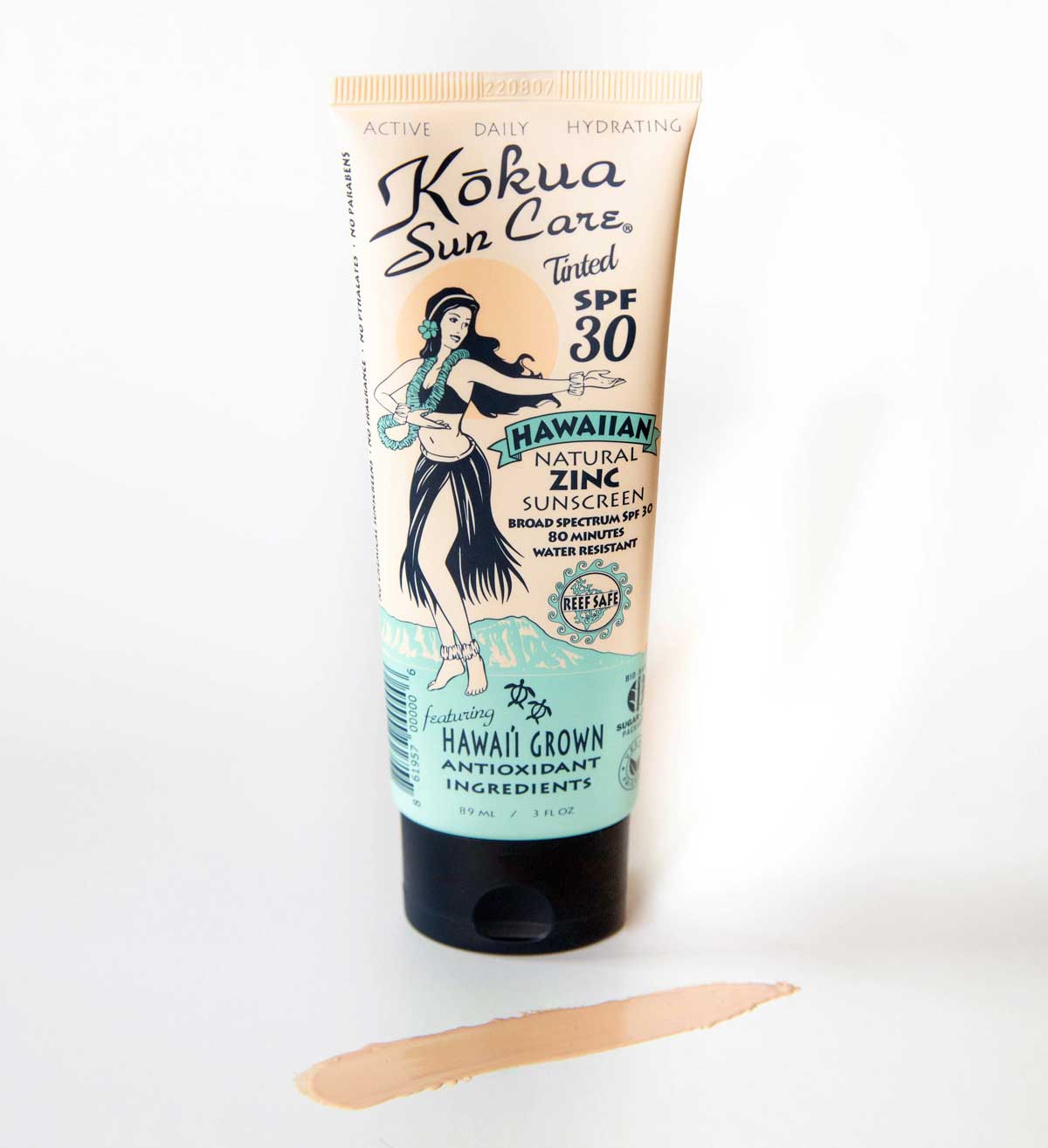 Reef Safe SPF 50 / 80 Minute Water Resistance Zinc Sunscreen Ingredient List
Active Ingredient:
Non-Nano Zinc Oxide (18%)

Inactive Ingredients:
Water (Aqua), Aloe Barbadensis Leaf Juice, Coco-Caprylate/Caprate, Glycerin (Vegetable), Macadamia (Ternifolia) Seed Oil*, Kukui (Aleurites Moluccana) Seed Oil*, Polyglyceryl-2 Oleate, Polyhydroxystearic Acid, Polyglyceryl-2 Stearate, Hydrogenated Methyl Abietate, Magnesium Sulfate, Galactoarabinan, Diheptyl Succinate, Capryloyl Glycerin/Sebacic Acid Copolymer, Propanediol, Noni (Morinda Citrifolia) Fruit Extract*, Spirulina (Arthrospira Platensis)*, Rosemary (Rosmarinus Officinalis) Leaf Extract, Sunflower (Heliantus Annuus) Seed Oil, Caprylic/Capric Triglyceride, Coffee (Coffea Arabica) Leaf/Seed Extract, Vanilla Planifolia Fruit Extract, Apricot (Prunus Armeniaca) Fruit Extract, Cinnamon (Cinnamomum Zeylanicum) Bark Extract, Kaolin, Hydrogenated Vegetable Oil, Plumeria Alba Flower Extract*, Tetrasodium Glutamate Diacetate, Sodium Levulinate, Sodium Anisate, Iron Oxides. *Hawaii Grown Ingredients